When Emma moved to Mattoon she found the Y to be her second home. By getting involved in group activities, such as water volleyball, she has made several friends around the Y. Each visit Emma and her friends make time for some fellowship and coffee in the lobby. -Emma Derrick
Richard enjoys his Y membership and appreciates that the Y offers something for everyone. He visits the water aerobics classes and is motivated to continue his workouts as it improves his health. -Richard Myers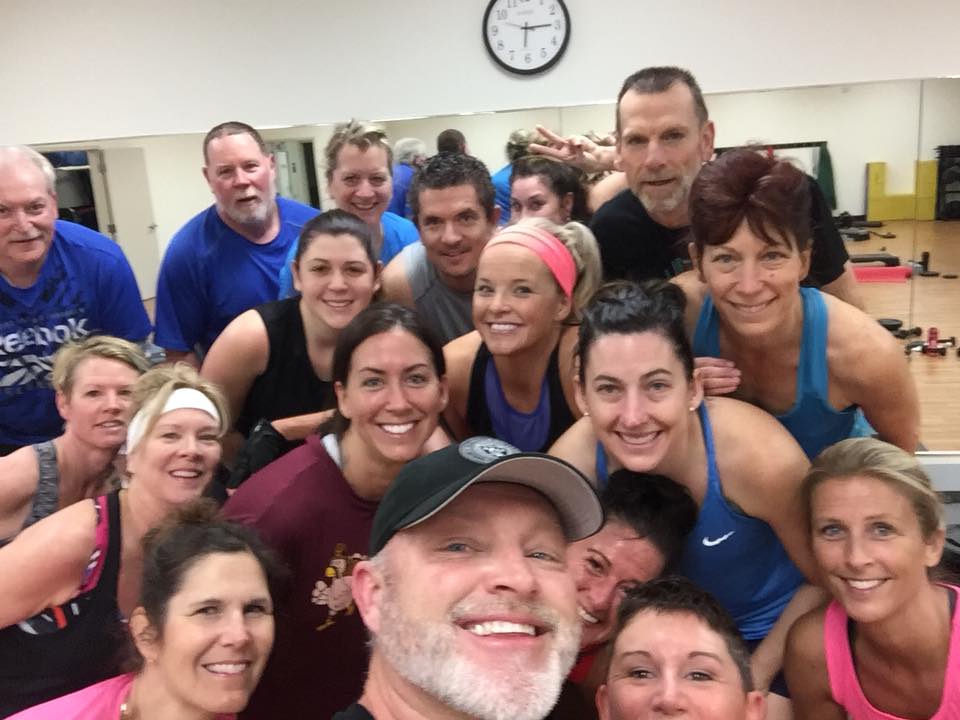 This group loves to get up and get the 'work' in early!  Our early morning BodyPump crew is all smiles after their 5:30am class. Their day started with a muscle burn before most of these folks headed out to their jobs!  If you are into early morning workouts join this crew on Tuesday and Thursday mornings.  Not into mornings?  No worries, this class is also offered on the noon hour, in the evening and on Saturdays!  Please check our current fitness schedule for times.  
The Monday night Z Dance Fit crew took a break from groovin' to the beat for a selfie!  This group loves to dance, feel the burn and invite new people to join them at class.  No dance experience?  No problem!  We all move differently and look differently.  You are unique and that is ok!  If you would like to join the fun and burn a few calories with this group, check out the current fitness class schedule for class times.  
Evonda Thayer, along with her husband- Nathan and two kids-Morgan and Maxum, joined the Y after moving to central Illinois. In 2016 Evonda and Morgan attended the Y's Sunday Sampler, where they tried out several classes. They were hooked. Becoming regulars in classes such as ZUMBA(dance fitness) and cardio-kickboxing, Evonda was ready to try out the title of instructor. In late 2016 she became employed at the Y teaching CXWORX. All four members of the Thayer family have found activities at the Y. Sports and fitness have become a part of their lifestyle while visiting the Y several times a week.
-Evonda and Morgan
Amy Kersten, Teresa Metzger, Anne Wagner and Colleen Garner start their day off right with Precision Combat.  As Anne says "Friends that sweat together, stay together."  These ladies have been part of the Precision Combat program for quite some time.  They will tell you the class is welcoming and the veteran classmates love to help the newbies with technique.  Kicking, punching and drills are all part of this program that mixes martial arts, Muay Thai kickboxing and Brazilian Jiu Jitsu.  To learn more about this class, stop by the Y welcome desk.
Several years ago Steve, along with a few other members, showed an interest in bringing Pickleball to the Mattoon YMCA.  Steve is passionate about Pickleball and has even helped to coordinate a few tournaments at our Y, which included members from another facility.  Steve enjoys teaching people the game of Pickleball.  To learn more about Pickleball, join Steve and our other players on Monday, Wednesday and Friday mornings.  Pickleball paddles are available at the Y welcome desk.
DO YOU HAVE A STORY TO SHARE?